Patching Compound Products
PP3 Feather Edge Smoothing Compound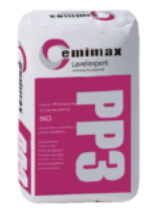 PP3 is an advanced cement and polymer-based patching compound for repair, filling and patching up to 13mm depth. Can be used on a variety of substrates before installation of most flooring products. Priming is not required for most applications.
PP5 Rapid/Ramping Compound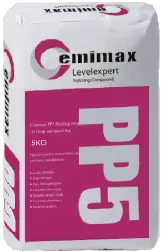 PP5 is an advanced cement and polymer mix that is a highly versatile, rapid drying, patching product. PP5 produces a smooth underlayment that eliminates subfloor issues before the installation of flooring. It's fine aggregates allow it to be installed from a feather edge up to high fill depth in one application. Superior bonding allows it to be applied over concrete, existing well-bonded flooring, properly prepared non-water-soluble adhesive, and well-bonded gypsum all without having to use primer in most applications. PP5 is a perfect solution for filling holes, crack repair, ramping, and embossing leveller. Indoor and outdoor use.