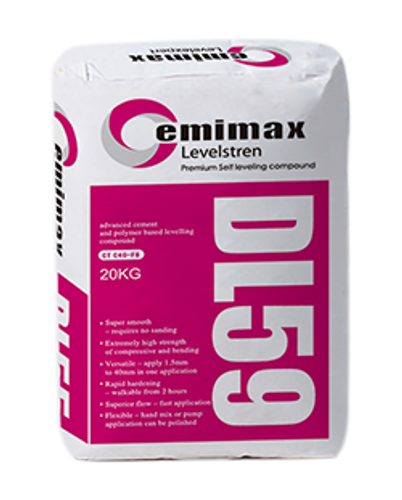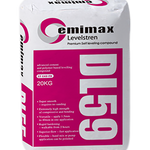 DL59 Indoor/Outdoor Levelling Compound
Item Code:
DL59 Indoor/Outdoor Levelling Compound
General-purpose, Self-smoothing and leveling compound
DL59 is a cement-based levelling compound with very high compressive strength to C40. DL59 is especially suitable for high traffic, heavy wear location. DL59 can be also used as overlays for polished concrete floors.
Product Properties/Benefits:
Plastic dry cement mortar with finely graded fillers. When mixed with water, produces a hydraulic-setting smoothing compound with good flow properties and high coverage.
Composition:
Special cements, mineral fillers, polyvinyl-acetate- copolymers, flow agents and additives.
Super smooth requires no sanding.
Extremely high strength of compressive and bending.
Versatile apply 1.5mm to 40mm in one application Rapid hardening walkable from 2 hours.
Superior flow fast application.
Flexible hand mix or pump application.
Can be polished.
For Interior and Exterior use.
Suitable for Radiant Floor Heating systems.
Pigments can be added for colour.
Aggregates can be added for exposed stone effect.